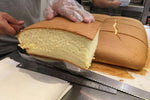 A Malaysian take on a Taiwanese iteration of a Japanese cake: That is Ah Mah Homemade Cakes, a Malaysian franchise specialising in egg sponge cakes which is opening its first outlet in Singapore on July 14.
The outlet at Bukit Panjang Plaza will serve two varieties of the egg sponge cake: Original and Cheese. The cakes are made of milk, eggs, and flour, with no preservatives or colouring. The cakes, which take 80 minutes to bake, will be made fresh every day. Cakes that have not been sold after 12 hours will be discarded.
Also known as castella cakes, this baked treat craze originated in Nagasaki, Japan, and comprise sugar, flour, eggs, and starch syrup. The Taiwanese rendition, with additions such as cheese, inspired the cakes made by the Ah Mah brand.
In Malaysia, queues for the Ah Mah cakes have averaged at around 45 to 60 minutes, with more than 100,000 boxes of the cakes sold thus far at its 14 outlets.
Castella cakes have also been popular in Singapore, with stores such as Le Castella selling the Taiwanese version of the sponge pastry. The waiting time at Le Castella, located at Tampines 1 mall, has been known to last up to five hours.
https://www.straitstimes.com/lifestyle/food/malaysias-take-on-egg-sponge-cake-ah-mah-homemade-cake-comes-to-singapore